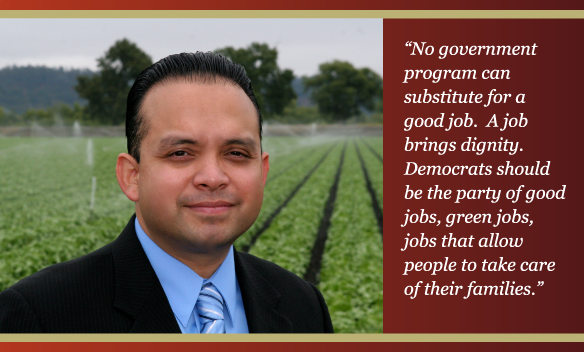 WE WON THIS VICTORY TOGETHER AGAIN!!!
December 4, 2012
Dear Residents of the 30th Assembly District,
Nov. 6th was a historic election for our nation and California. I want to thank all my supporters and residents of the 30th Assembly District for your confidence & trust to continue representing you and being your champion in Sacramento.
With all the votes officially counted, I have won my re-election in all 4 counties at all time record high levels, thanks to you, for a total of 65% support!
Here are the results by county so far:
Santa Cruz County: 76% to 24%
Monterey County: 70% to 30%
Santa Clara County: 58% to 42%
San Benito County: 58% to 42%
It couldn't have been possible with you. I am humbled and thank you for believing in me. In turn, I will continue to work hard for you and being an effective voice for the 30th Assembly District and our Golden State at the State Capitol.
Sincerely,
LUIS A. ALEJO
State Assemblymember, 30th District
Chair of the Assembly Environmental Safety & Toxic Materials Committee
----------------------------------------------------------------
Dear Friends,

I am running for relection for State Assembly in the new 30th District, and I continue to build a strong base of support from community leaders and voters across the district each week.

As you know, our state is in a major fiscal crisis that has already placed significant hardships on our families, schools, and communities. Now more than ever, we need to continue to have strong voice and proven leadership for our local communities in Sacramento. I have proudly served our communities in many different capacities, and have worked hard to make good improvements throughout the Monterey Bay area as a city councilmember, public interest attorney, and community activist.
While in Sacramento this past year, I successfully fought to keep our local DMV and EDD offices open after the state proposed to close them. I also led the effort to stop the multi-million dollar supplemental pension abuses at Salinas Valley Memorial Hospital that were being paid at taxpayers' expense. The state audit has already resulted in many positive changes at the hospital and it is now operating in the black after subsequently making needed fiscal reforms. I have also stood up for local businesses by supporting the Enterprise Zone tax credit programs (with necessary reforms) and I have stood with local cities to attempt to reform but keep redevelopment programs to attract economic development.

I have been proud as the vice-chair of the Assembly Local Government Committee and served as a strong champion for our local cities. Last August, the Assembly Speaker appointed me as the new chair of the Assembly Environmental Safety & Toxic Materials committee where I will lead on issues such as pesticides, water and air quality, environmental issues and consumer and product safety issues. I also serve on the Assembly Budget Committee, Judiciary Committee, Labor & Employment Committee and the Joint Legislative Audit Committee. I have also served on the Assembly Committee on Sustainable & Organic Agriculture to support our local agriculture.
I am also proud to serve as an ex-officio member of the California Coastal Conservancy to protect and preserve our beautiful California Coastline and wetlands.

My other qualifications to serve as your assemblymember derives from a number of sources:

STRONG EDUCATION BACKGROUND:

Law degree (juris doctorate J.D.) from UC Davis School of Law, 2001.
Master's of education (Ed.M) degree from Harvard University, 2003.
Dual bachelor's of arts (B.A.) degrees from UC Berkeley. Honors graduate, 1997.
Associate of Arts (A.A.) degree from Gavilan Community College in Gilroy, 1994.
Watsonville High School graduate, Class of 1992.

EXPERIENCE:

Staff Attorney with the Monterey County Superior Court.

Staff Attorney with California Rural Legal Assistance. Providing free legal assistance to thousands of low-income residents.

Worked as a legislative aide in Sacramento for Assemblymember Manny Diaz (D-San Jose). Obtained first hand experience in passing statewide laws, assisting constituents, working on budgetary issues, & assisting different interest groups.

Former alternative education high school teacher in Watsonville.

Former research assistant for the Harvard Civil Rights Project in Cambridge, Massachusetts focused on education policy.

COMMUNITY & PUBLIC SERVICE:

California Coastal Conservancy, Ex-Officio Oversight Member, 2010-Present

California Advisory Committee of the U.S. Commission on Civil Rights, 2001-2010.

Director, Association of Monterey Bay Area Governments (AMBAG), 2009-2010.
Santa Cruz County Dropout Prevention Task Force, 2009-Present.

Member of the California State Bar Assn & U.S. Federal Northern District Court Bar.

Central CA Vice-Chair, Chicano Latino Caucus of the CA Democratic Party, 2007-2010.

2008 National Delegate for Barack Obama for CD-17, National Democratic Convention.

Santa Cruz Co. Democratic Central Committee, District 4 representative, 2004-2010.

Former Vice-Chair of the Watsonville Planning Commission 2006-2008.

Watsonville Library Board, 2005-2006.

Watsonville General Plan Steering Committee, 2004-2006.

Santa Cruz County Juvenile Justice & Delinquency Prevention Commission, 2003-2006.

English Learner Master Plan Task Force, Pajaro Valley Unified School District, 2007.

City of Watsonville Blue Ribbon Committee for Sustainable Revenue – member, 2006.

County Transportation Funding Task Force – member, 2007.

Board of Directors, Salud Para La Gente Health Clinics - Director, 2004-2008.

Board of Directors, White Hawk Indian Council - Director, 2005-2008.

2006 Pajaro Valley Voter Registration Project Director. Registered hundreds of voters.

2008 Leadership Santa Cruz County graduate.

2009 Focus Agriculture graduate.

Member of the Springfield Grange, 2011-2012.
Member, League of United Latin American Citizens (LULAC), San Benito Co. Council #2894, 2008-Present.
Lifetime Member, National Association of Latino Elected Officials Association (NALEO).
Silver Life Member, National Association for the Advancement of Colored People (NAACP).

SERVICE AWARDS: My work has been recognized through numerous awards, including:
2013 Legislator of the Year - Pacific Water Quality Association.

2013 Champion for Immigrants Rights Award, SIREN of San Jose.

2012 Legislator of the Year - California Enterprise Zone Association.

2012 Cooperativa Campesina, Cuahtemoc Award.

2011 Legislator of the Year, CA League of Cities Latino Caucus

2010 Distinguished Alumni Award, Community College League of California.

2009 Award of Merit, CA Legal Aid Association & CA Access to Justice Commission.

2008 California Democratic Party's John F. Kennedy Award for Outstanding Public Service (Young Democrat of the Year Award).

2008 Tony Hill Community Service Award by UC Santa Cruz (Martin Luther King, Jr. Convocation).

2006 Democratic Region 9 Volunteer of the Year.

2006 Santa Cruz County Democratic of the Year.

2004 United Way Community Hero Award.

2003 Association of Mexican American Educators Community Service Award.
2001 Martin Luther King Community Service Award. UC Davis School of Law.

2001 Maggie Schelen Public Service Award, UC Davis School of Law.

2001 Lorenzo Patino Community Service Award. La Raza Law Students Association, UC Davis School of Law.
SPORTS AWARDS: I am a former high school and community college wrestler:
1992 Watsonville High School Wrestling Team Captain & Co-MVP.

2X Santa Cruz Coast Athletic League (SCCAL) County Wrestling Champion, 1992 & 1990. SCCAL Wrestling Champion Runner-Up, 1991.

1X Central Coast Section (CCS) Runner-Up, 1992 Championships. Lost to Eric Guerrero of Independence High School in San Jose 5-4. Guerrero went on to become a 3X State High School Champion, 3X NCAA National Wrestling Champion & a 2006 USA Olympic Wrestling Team Member. 1991 CCS Championship Placer, 6th.
1994 Gavilan College Wrestling Team Captain & MVP.
1994 California Community College Wrestling State Championships Placer, 5th.
1994 Northern California Wrestling Championships, 3rd.
1994 Academic CA Community College All-American Wrestler.
With my education, background and experience, I hope to serve you as your assemblymember, and to continue working hard to make good changes for our state and local communities. But I cannot do it without you, and I respectfully ask for your continued support.
Sincerely,
LUIS A. ALEJO
Assemblymember, 30th District